Boutique Yoga Retreat Announces New Getaways for the 2019 Season
Harmonic Escapes, which offers boutique yoga retreats in Ibiza, has revealed the dates of its 2019 events. The exclusive holistic retreats, which all feature a harmonic musical angle, are designed to delve deep into the world of yoga while also providing opportunities for guests to explore a wide range of alternative activities, such as dance, paddle boarding, walking and drumming. Active retreats are scheduled to take place in June and July, with walking retreats planned for later in the year as the weather starts to cool slightly.
The fun-packed getaways are all meticulously planned to create the perfect balance of energy and relaxation. With two daily yoga sessions led by yoga teacher Zarah Boden, lively activities such as paddle boarding and African dance, calming exercises like meditation and breathwork, and vibrant beach drumming at sunset, the retreats are designed to provide plenty of choice in how guests enjoy their getaway. All activities and sessions are optional, and guests are encouraged to relax, sunbathe, explore the island of Ibiza, and join in with the festivities at their own pace, on their own terms.
"We're so excited to announce our new retreats, taking place in June, July, and October this year," says Harmonic Escapes Founder Cynthia Micallef. "We've already seen how well our previous guests have responded to the sessions and activities on offer here in Ibiza. We've expanded on these to include even more opportunities to learn, grow, and try new things… or even just relax and enjoy a bit of Spanish sun!"
"We're proud to have partnered with some of the best massage therapists and activity leaders on the island, so relaxing treatments and yoga continue to play a big role in our retreats, but it's entirely up to each guest what activities they take part in".
The luxurious Harmonic Escapes retreats feature delicious, nourishing meals with menus heavily inspired by local ingredients grown on nearby farms. Fresh juices, all-day snacks, brunch, dinner, and a daily glass of wine are included as standard at each retreat. Guests unplug and unwind in a peaceful villa in the unspoilt north of Ibiza featuring an 18 metre swimming pool, beautiful covered yoga deck and expansive natural surroundings which simply invite relaxation.
Harmonic Escapes will offer just three 6 night retreats for the 2019 season, taking place 6 – 12 June, 8 – 14 July, and 17 – 23 October, with the option to stay for an additional night if desired. Those booking in pairs will each receive a €150 discount.
About
Harmonic Escapes offers a range of yoga retreats designed to rejuvenate the body and mind. Committed to self-development and learning, the retreats encourage good health and wellbeing while simultaneously promoting the importance of sustainable tourism in Spain. Having been born in Malta, founder Cynthia Micallef left the world of corporate London behind to return to her island roots, settling in the serenity of northern Ibiza where she partners with inspiring teachers, therapists, and chefs to create relaxing getaways amongst the natural beauty of the Balearic Islands.
Join with a friend to receive €150 off each. Sign up to our newsletter to receive the discount code.
ACTIVE YOGA RETREATS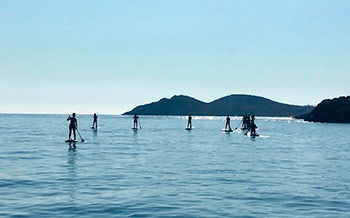 8-14 JUNE, 2019
BOOK JUNE ESCAPE
6-12 JULY, 2019
BOOK JULY ESCAPE
RECLAIM YOUR BALANCE

Our yoga retreats are as much about re-energising your body and mind as slowing down and living consciously. Our Ibiza active escapes give you a much-needed break from the everyday so that you can re-balance, while challenging yourself to achieve things you didn't think possible.
The luxury Can Amonita villa is purpose-built for retreats, set amid gardens and terraced woodlands in the serene north Ibiza hills. It features an outdoor yoga deck, a serene pool surrounded by pine trees and a Bali house where you can have a personalised massage.
During your six-night stay, you will experience an empowering mix of activity and relaxation. Inspirational teacher Zarah will guide you through morning and evening yoga, as well as evening meditation.

YOU WILL EXPERIENCE
Dynamic vinyasa flow yoga
Restorative yoga
Meditation and breathwork
Partner yoga
Beach yoga
A RANGE OF ACTIVITIES AND EXCURSIONS
Stand-up paddle boarding
Drummers' circle
Immersive crystal healing sound bath
Wake-up beach yoga followed by a swim in the sea
A magical sunset on nearby Benirras Beach while dancing with drummers
Of course, there will also be plenty of time for relaxing and exploring Ibiza!
Our retreats cater to a maximum of 12 guests. We will guide you towards embodying yoga, listening to your inner guru and taking steps towards self-empowerment.
A TYPICAL DAY
Join our instructor Zarah on the beach for a session of vinyasa flow Yoga, followed by an invigorating morning swim. After a scrumptious brunch based around seasonal, local produce, be pampered during a personally tailored massage at the villa's Bali House, before evening yoga and meditation. Enjoy a glass of wine with your dinner before taking part in a drumming circle.
ACCOMMODATION
Our retreat venue, Can Amonita is situated close to the village of San Lorenzo, a 5-minute drive from the famous La Paloma restaurant. The house was built to host wellness yoga retreats having a peaceful energy set in the beautiful Ibiza countryside. Yoga is practiced outdoors in a beautifully yoga deck with views out to the forest.
All the bedrooms have luxurious en-suite bathrooms, are fully air-conditioned and have Internet access throughout. Beautiful Ibiza beaches of Benirras, Cala Nova and Cala Llenya are only a short drive away as well as many of the best restaurants on the island. The main highlight of Can Amonita is its 18-metre long outdoor pool where you can relax in total tranquillity and perhaps indulge in a massage in the Bali house at the bottom of the pool area. The luxurious house offers many chill-out outdoor and indoor areas, allowing guests to have quiet time in complete privacy.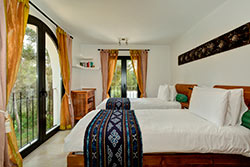 FOOD
You will be nourished with healthy, delicious plant-based cuisine, based on fresh seasonal ingredients sourced from local farms Our chef Patricia is experienced at catering to a variety of dietary requirements. We send a questionnaire to all our guests prior to the retreat to assess dietary your requirements.
Food based on a vegetarian diet will consist of:
Fresh fruit juice and teas before morning yoga
Snack after yoga
Brunch buffet
Afternoon sweet snack
Dinner
Fruit and teas available all day
One dinner is left free to eat out at a restaurant of choice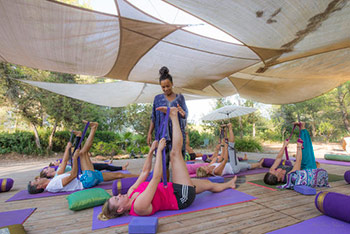 WHAT'S INCLUDED
5 morning yoga sessions
5 evening yoga sessions with meditation
1 hour stand-up paddle boarding tour
6 nights' accommodation at Can Amonita (all bedrooms have ensuite bathrooms and air-conditioning)
Daily brunch, fresh juices and snacks.
Dinner on 5 nights (1 night eating out at a restaurant)
Glass of wine with dinner
Snacks, teas and water available throughout the day
Evening activities, such as crystal sound bath, drumming circle and visiting Benirras drummers
Silent early morning walk (daily depending on demand)
GOOD TO KNOW
Our retreats are a maximum of 12 guests.
Yoga sessions are suitable for complete beginners as well as experienced practitioners.
Food is fresh, healthy and plant-based. We cater to any dietary requirements. A detailed questionnaire is sent before the retreat.
Brunch is served at 11:30 and dinner is served at 20:00.
Snacks, teas and unlimited water are available throughout the day.
All bedrooms have en-suite bathrooms and air-conditioning.
The retreat venue is located a short drive from gorgeous beaches and coves including: famous Benirras beach, Cala Llenya and Cala Nova.
Stand-up paddle boarding tour takes around one hour.
Massage therapists are available at the villa on request. Your free time for a massage is between 13:00 to 17:00.
The team at Harmonic Escapes is available to take care of your every need.
EXCLUSIONS
Flights and transfers
Travel and personal insurance
Additional activities, personal treatments and massages
Any food and beverage purchased/consumed outside the venue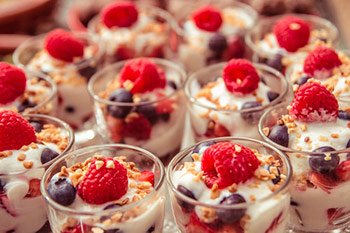 PRICING
Join with a friend to receive €150 off each. Use code YOGAWITHFRIENDS when you book your retreat.
From €1,550 per person for 6 nights, with the option of staying an extra night for an additional €100.
8-14 JUNE, 2019
BOOK JUNE ESCAPE
6-12 JULY, 2019
BOOK JULY ESCAPE